WHY SBC?

Partnering with SBC will:

• Reduce your liability
• Increase your cash flow
• Increase productivity
• Increase morale
• Increase your competitive advantage




WHAT CAN SBC DO FOR YOU?


Whether you are a large employer or an individual who needs someone to review a policy, SBC is a one stop shop for all your needs.

Our goal is to provide you with the most important tool of all - KNOWLEDGE. Knowledge is Power and we want you to have as much power as we can to help control your benefit programs. We want to partner with you and bring value to your offerings.

SBC brings the following value added services to the table for our clients. This "wheel" is the foundation for you to keep your business rolling along the way you envisioned.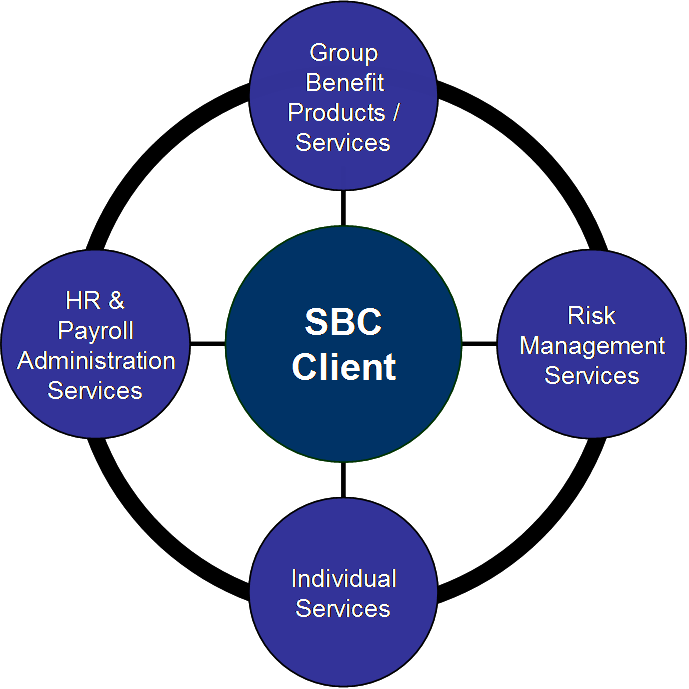 &nbsp
Group Benefit Products
Medical/Rx Programs, Dental, Vision, Life & Disability, 401K Plans, Voluntary Benefits

Group Benefit Services
Benefit Strategy Development, Renewal Negotiation, Cost Projections, Trend Analysis & Benchmarking, Plan Design & Network Analysis, Enrollment Support, Vendor Management, Claim Resolution, Health & Wellness Consulting

Risk Management Services
General Liability, Workers' Compensation, Captives, OSHA Compliance

Individual Services
Medical/Rx, Dental/Vision, Life & Disability, Long Term Care, Home/Auto Insurance

HR & Payroll Administration Services
Payroll Consulting, Employee Surveys, Compliance